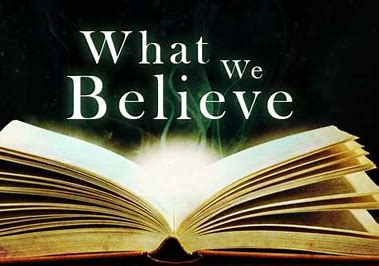 WHAT WE BELIEVE
THE BIBLE
The Bible is the inspired Word of God and is totally sufficient in the rule of faith and practice (II Timothy 3:16-17 & II Peter 1:20-21).
THE VIRGIN BIRTH
The virgin birth, the sinless perfection, the bodily resurrection and ascension into heaven of Jesus Christ, and His present role in heaven in serving as our High Priest and advocate (Luke 1 :30- 35; John 1:1, 14, 18; Hebrews 4:15; and Philippians 2:5-11).
CREATION OF MAN
That humankind was created in the image of God, and that human beings disobeyed God leading to spiritual death which is separation from God; physical death is also a consequence; and that all humankind is born in sin and are sinners by nature and practice (Genesis 1:26,2:17; Psalms 14:1-3,51:5; Jeremiah 17:9; John 3:6, 5:40, 6:35; Romans 3:10-19,8:6-7; Ephesians 2:1-3; I Timothy 5:6; and John 3:8).
MARRIAGE
That God created man and woman and marriage was created by God between one man and one woman. (Genesis 1:26,2:21-24)
SALVATION
That the Lord Jesus Christ died for the sins of humanity, and all who believe in Him are justified on the basis of His shed blood (Romans 3:25-26; II Corinthians 5:14; Hebrews 10:5-14).
HOLY SPIRIT
That all who receive the Lord Jesus Christ by faith are born of the Holy Spirit and thereby become children of God (Romans 5:5,8,8:9- 11; I Corinthians 12:7; Ephesians 2:8, 4:7; John 1:12 and John 3:1-36),
ETERNAL STATE
In the bodily resurrection of the just and unjust, the just to everlasting blessing and the unjust to everlasting punishment (John 14: 1- 3; I Corinthians 14:51-52; Philippians 3:20; I Thessalonians 4:13-18; Titus 2:11-15; and Revelation 20:11-15).
GOD'S GRACE
That grace of God to be sufficient for maintaining godly character, and that Christ and not the law is the believers' rule of life (Romans 6: 11-13, 8:2,4: 12-13; Galatians 5: 16-23; Ephesians 4:22-24; Colossians 2:1-10; I Peter 1:14-16; and I John 1:4-7,3:5-9).