Rev. John Henry Parker
Pastor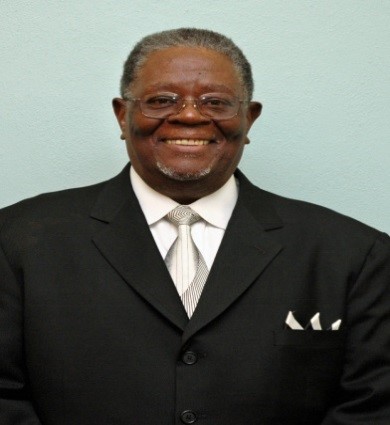 Pastor John H. Parker (1939-2012) was born in Monroeville, AL, to Reverend and Sister M. H. Parker*. At an early age, Pastor Parker joined New Nazareth Baptist Church in nearby Deatsville, AL, and was baptized by immersion in water in the name of the Father, Son, and the Holy Ghost. He attended public schools in the area. Pastor Parker married the former Diane Elois Harvey; to the union two lovely daughters were born, Chandra and Lynn.
After retirement from the U.S. Army in October 1980, Pastor Parker moved to Washington, D.C. and immediately united with Central Baptist Church. In 1981, he was appointed to the Deacon Board and was ordained on October 10, 1982.
In 1984, God called Pastor Parker into the Ministry to preach the Gospel. The Reverend Dr. Henry S. Moore, Sr., licensed him. On April, 11, 1987, he was ordained and installed as the Assistant Pastor of Central Baptist Church. On December 10, 1987, he became Pastor-Elect and on March 27, 1988, was installed as the Pastor of Central Baptist Church. In June 1988, he resigned from the U.S. Postal Service to serve as full-time pastor.
In 1994, approximately 3.2 acres of land was acquired on Linda Lane and Old Branch Avenue in Camp Springs, MD, for the building of a new edifice for Central Baptist Church. After several years of preparation and construction of the building, the new church was now ready for us to move in; and on December 3, 2005, we held our Ribbon Cutting Ceremony for the Central Baptist Church of Camp Springs, located at 5600 Old Branch Avenue, Camp Springs, MD. It was a glorious occasion in the name of the Lord. On December 4, 2005, we held our first Sunday worship services in our new building at 7:30 a.m. and 10:45 a.m., with Sunday School at 9:30 a.m. We praised God for blessing us so bountifully.
After several more years of dedicated service, we lost our second leader, our earthly shepherd on February 12, 2012. Pastor John H. Parker brought in many who gave their lives to Christ. He will never be forgotten because he did so much for the congregation. He knew his members and was there for us to the very end. Now, we know he is looking down upon us, encouraging us in our spirit. We shall never forget him; he lived his life so boldly and impacted our lives so greatly.